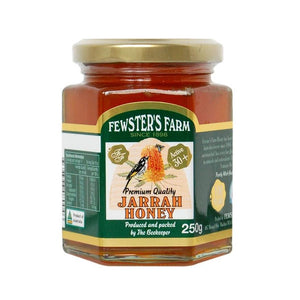 Indulge in the pure sweetness of Fewsters Farm
Organic Raw Jarrah Honey TA30+
Experience the richness of organic honey, straight from nature's bounty.

Fewster's Farm Organic Raw Jarrah Honey TA30+ is the perfect addition to your pantry if you are looking for a natural and healthy sweetener. Our premium quality honey comes straight from our farm, where we take pride in keeping bees using sustainable practices. The organic nature of this honey means that it has been produced without any harmful chemicals or pesticides, making it better for both you and the environment. The unique flavor profile of Jarrah honey makes it stand out from other kinds of honey. It is not only delicious but also boasts an impressive TA level of 30+, which indicates high antibacterial activity. At Fewster's Farm, we believe in offering value to our customers; thus, with every purchase made on multiple jars at once, you can save more! Get yours today and add a touch of sweetness to your life while supporting ethical beekeeping practices!
Enjoy the natural goodness of Fewster's Farm Organic Raw Jarrah Honey, TA30±-a delicious and healthy addition to your diet
Save money with our Buy More Save More offer on this premium quality organic honey, sourced from Western Australia's pristine forests
Trust in the purity and authenticity of Fewster's Farm Organic Raw Jarrah Honey
Free from additives, pesticides, or GMOs for a truly wholesome product
Any information found on this website is not meant to treat, diagnose, prescribe or cure any ailment.
Always check with your physician or healthcare team before consuming any products or following any advice.
Buy More Save More! (savings calculated at checkout)
| | | |
| --- | --- | --- |
| Qty | Price  | Discount |
| 1-2 jars | $49.95ea | 0% |
| 3+ jars | $37.50ea | 25% |


100% Natural & Organic
Fewster's Farm Jarrah honey is not heated and chemical-free to ensure optimum goodness is retained
Maximise Endurance: High levels of slow-releasing fructose making Jarrah honey the perfect training supplement.
Jarrah honey has 50% higher antimicrobial activity (TA rating) than Manuka and is also rich in antioxidants